Was text messaging the primary means of communication between you and your boyfriend?  If so, you're not alone.  Lots of couples use text messages to talk about everything and anything, including serious chats about their relationship and breakup.
But, now that you've broken up with your ex boyfriend and you're looking for ways to win back his heart, you may be wondering whether to send your ex a text message, what you should say in any texts to him.
When To Text Your Ex Boyfriend
First of all, let's get one important thing out of the way:  if it's been less than thirty days since you and your ex boyfriend broke up, you should probably not be talking to your ex at all. This is called the "no contact" phase, and it involves dropping off your ex's radar screen completely.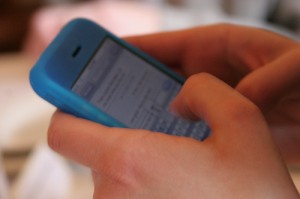 During the "no contact" phase, which usually lasts between 3 and 5 weeks, you shouldn't send your ex boyfriend any texts at all.
I realize this may be difficult, especially if you're used to sending him a number of texts each day, but it's critical to making your ex miss you and eventually getting him to fall back in love with you.
So you really need to resist the urge to text him or have any contact at all during the 'no communication' period.
After the no-contact phase has ended and you're ready to re-establish communication with your ex, it's finally OK to send your ex boyfriend a text message.  Note that I said "A" text message — just one to begin with!  You haven't spoken to him in weeks at this point, so anything more than a single text message will be overkill.
What To Say In Your Message
So you've gone several weeks without talking to your ex boyfriend, and you're now trying to decide what you should say to him when you send him a text.  I'm sure there's lots of things you'd like to text your ex at this point.  You may feel like asking him if he misses you, or telling him you still love him, or all sorts of similar emotional and romantic things.
Do not.
It's critical at this point to only send your ex boyfriend casual, light-hearted text messages that have nothing to do with your relationship or your feelings for him.

Texting your ex to say anything "serious " or trying to begin a conversation about your romantic future together will almost certainly backfire and push your ex further away.  The time for serious chat about getting back together and the future of your relationship will come, but at first your goal should just be to get him thinking about you and to receive a reply from him.
Some examples of casual and friendly things to text your ex boyfriend:
"Hey, long time no talk! Hope you're doing well. Just wondering if you remember the name of that Chinese restaurant on Elm street that we went to together?"
"Hi there! Just saw a re-run of the movie Cool Runnings'on TV and it reminded me of you because I know you love that movie!  Haha. Hope all is well."
"Hey any chance you know what type of chocolate your aunt used to use in those cookies we loved so much? I want to make a batch!"
These are the sorts of text messages that you can send to your ex boyfriend in the early days after the "no contact phase" has ended. They're simple, non-threatening, casual, and will usually incite a response.  If your ex boyfriend doesn't reply to your first message, don't worry. All hope is not lost.  (But don't send a follow-up until a few days later! Remember, you're trying not to seem needy.)