LoveLearnings.com: This is part two of our interview with relationship expert and author of The Ex Factor Guide, Brad Browning. So given the success of The Ex Factor Guide, a guide to getting your ex back, then you must have your love life all sorted out!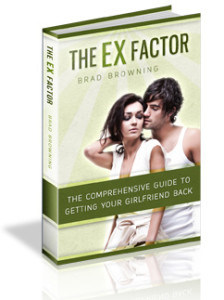 Brad: Well, relationships always have their difficulties, but I'm happily married. I feel very fortunate to have an incredible partner to share my life with.
LoveLearnings.com: You sound very happy. Let's talk a little bit about your book again. So The Ex Factor Guide, like we've stated in our first interview, is one of the best selling e-books on the subject. Can you tell us a little bit about the fundamentals you were talking about earlier? How would one get their ex back?
Brad: Great question. I first like to tell people why their relationship ended. And the reason why peoples' relationships isn't what you think it is. Essentially, I tell people that the relationship has ended because the attraction has faded. Clearly you've heard of girls stay with their abusive, criminal boyfriends… these men embody everything that is bad about a person. Yet, these women still stick with them. Why? It's because these men are very attractive, as stupid as that sounds.
Once I discover why your ex left you, we then begin patching the problem and re-engineer your image, as I like to say.
After, and this is what I call the Re-Attraction Phase, I tell my clients exactly how to contact your ex again and start a highly attractive relationship.
LoveLearnings.com: Could you give me an example of what a person should say to their ex after they've been dumped?
Brad: Yes. How about, "I accept the break up and I think it is a good idea."
LoveLearnings.com: Really? That will help you get your ex back?
Brad: Absolutely. And if you read my book you'll know exactly why that is! The thing is, people don't realize that getting their ex back takes a lot of weird psychological tactics. A lot of the time, what you think shouldn't work to get your ex back, actually works better than anything else. In my e-book, I tell you all the ways in which you can get your ex to become highly attracted to you again.
But it's not just as simple as that. You do indeed have to work at it. My program doesn't just include an e-book, there's audio and video as well — all the tools you'll need to get your ex back.
LoveLearnings.com: So outside of helping relationships, what do you like doing in your off-time?
Brad: Good question. I like to wake board, ride my Harley Davidson Nightser, and play videogames with my children. And spend time with my wife, of course — we love to paint and travel. We're actually traveling to Seychelles next month.
LoveLearnings.com: Where on Earth is that?
Brad: Google it. It's beautiful.