An anonymous reader sent us a message via our Google+ page earlier this week, and I thought it would be a great question to answer here on the blog.
"Hi, can you lend some advice?  My boyfriend, who I've been dating for almost two years, doesn't want to move in with me.  He's 26 (I'm 24), and currently lives with two roommates.  I live alone in a nice big apartment and he can definitely afford half the rent. I even offered to find a new place together with him, but he still doesn't seem interested at all."
Hi there, and thanks for the question. It's a fairly common issue for young couples, so don't stress too much.  Hopefully I can help provide some insight.
First Look At Your Relationship
First of all, let's get one thing out of the way: how strong is your relationship? Is it a mature, loving bond between two adults who are committed to being together? Are you happy together, and have you talked about your future?
If the answer to the above questions is "yes," then I think it's probably a textbook case of "commitment phobia" on the part of your boyfriend.
He's probably just a bit frightened at the thought of committing to something as serious as moving in together, especially if this will be the first time he's lived with a girlfriend.
As I said, if the relationship is stable and serious and you've discussed your plans for the future, then it's probably something you can work through.
Don't pressure him too much, but bring up the topic again in a month or two and slowly crank up the pressure for him to make a decision. Living with someone is a big step toward a long-term future together — probably marriage, too — so it can take a while before people can come to terms with that sort of commitment.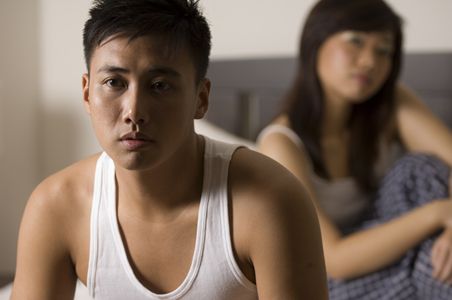 It might help to give him a while to prepare, both mentally and physically.  Agree on a date in the future — say, nine months from now — that the two of you will move in together.
This might give him the time he needs to come to grips with the commitment and prepare himself for living with a romantic partner.
If he still resists the idea in a few months, after you've brought up the topic (gently and carefully), then you can try to identify other possible hurdles (which I'll touch on below) and may need to consider an ultimatum, such as, "if you aren't going to want to move in with me in the next year, then I'm not sure I am comfortable staying together, because it seems like you don't think we have a long-term future together."  (Such ultimatums are a last resort!)
Are You Arguing — Frequently?
If you've had some problems with your relationship, such as frequent arguments or infidelity, then you probably need to work on sorting out those issues first before you can really expect him to take the plunge and move in with you.
Understandably, most people (men and women alike) don't want to get too deep into a relationship if there's a chance it may not last.  Breaking up is a lot harder when you live with your partner.
Even if you think things are going well, and you don't see any reason your boyfriend would resist the idea of living with you, then maybe there's something going on that your boyfriend hasn't shared with you.
Does he have a habit that he hasn't told you about?  Maybe he likes to drink fairly heavily, and he's worried you'll disapprove if the two of you lived together.  Maybe he loves to sleep in until 2 p.m., even though he says he's up early to work on his college term paper, and isn't ready for you to find out about this.
How Interested Is He — Really?
And, although it's a very remote possibility, you have to consider that he might simply not be interested in a long-term future with you.  As I mentioned earlier, if the issue can't be resolved with patience and a series of mature conversations over the course of several months, then you need to bring this up to him and ask if he sees a long-term future together.
Hopefully, though, moving in together will just be a matter of patience. It usually is.
You may also want to read how to make him commit to you (a recent article written by a colleague).
Good luck!
Do you have a relationship or dating question you'd like answered?  Send us a message on Twitter or get in touch with us via Facebook and we'll do our best to provide an answer here on the blog!