Alina from Switzerland writes,
How do I get a guy that I'm dating to commit? I really like him… more than just a friend, but I don't know how to take things to the next level without scaring him off. I really want to call him my boyfriend. Just afraid of ruining things, thanks!
Hi Alina, and thank you for your question!
I get this a lot from my female readers. How do you get a man to commit?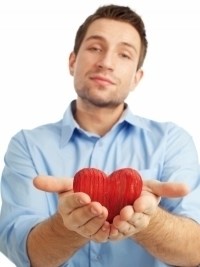 Well, it all depends on several factors. How long have you been seeing him, and is your relationship purely sexual in nature or not? If you've been seeing this guy and all you do is have sex, then there's a chance that he'll likely think of the relationship as just a fling. What you need to do is show him that you're girlfriend material.  [RELATED:  Overcoming Your Man's Fear of Commitment]
How can you do this? Well there are several ways in which you can convey that you're more than just a notch on his bed post.
Show him that you can dress well for him. The next time you see him, dress a little classier, with a touch of sexy! Think Angelina Jolie (who has a very alluring image). See, men are visual creatures. They are turned on by physical appearance (and luckily, women can control their physical appearance much better than men!).
Second, touch him. Yes, touch is an important way to make a guy way more attracted to you. I'm not talking about sexual touching here, I'm talking about just friendly, casual touching. So if one of you makes a joke, laugh and touch his arm! Flirt with him a little more. Playfully punch him if he makes fun of you, but doing it in a cute and loving way.
You need to capture his imagination. Make him think of you in a sexual way without you compromising your class. It's perfectly within your power!
Third, compliment him. Men love compliments, so by complimenting him, you're saying, "Hey! I'm on your side!"
So the next time he does something kind to you, say something nice! Don't be afraid to do this. Look him in the eye when you say it.
And maybe, give him a hug!
Finally, and here's the secret ingredient; make him jealous.
Yes, making him jealous is one of the most powerful things you can do to make a guy attracted to you. Let him know that other high valued guys are chasing you. Make him known that guys are just clamouring to be with you. Let him know that, maybe, one of his best friends was checking you out! Jealous works wonders in the area of attraction and seduction, so don't be afraid to use this psychological bomb shell for yourself!
Finally, check out these signs that indicate a guy likes you or not… you may be surprised at what you see.