It can be extremely challenging to think of creative, meaningful gifts for your girlfriend or wife — especially when you have to do so several times a year: Christmas, Valentine's Day, her birthday and so on.
But stop stressing out, because I've got some unique and interesting gift ideas for you.  While not all of the potential presents I'm going to discuss below will be suitable for your lady friend, you should be able to find one or two that will work nicely.
General Gift Giving Advice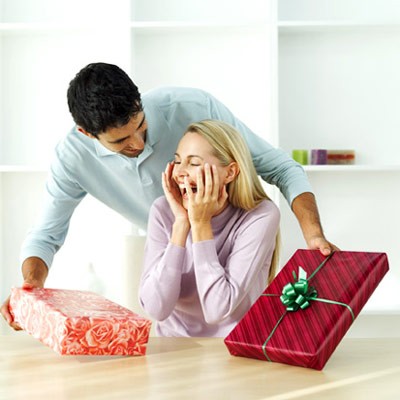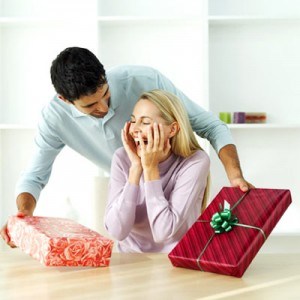 Good gift giving is not really about the actual gift itself. As the old saying goes, "it's the thought that counts."  And in this case, that saying is actually 100 percent accurate. The value of the gift is much less important than the thought that went into it.
If you really want to dazzle your girlfriend or wife with a gift (or anyone, for that matter) you need to decide on a gift that indicates you've really thought about the person's hobbies, interests, and what makes them happy.
A diamond ring is a lovely gift that any woman will love, sure, but she'd probably be even more blown away if you spent that money on something more thoughtful and creative.
What makes an ideal gift? It should meet at least one of the following criteria:
Shows that you really know the person who is receiving the gift. For example, if your girlfriend is a cat lover, buy her some enormous slippers in the shape of a cat rather than some fancy moccasins. If she once mentioned that she loves cheesy horror movies, burn a bunch of cheesy old horror flicks and give her a stack of DVDs. Anything that shows you listened to her and understand her will automatically be a solid gift.
Shows that you put effort into the gift. This isn't always possible, but if you want to make a big impression, do something that requires a lot more effort than just walking into a jewelery store and buying the first necklace you see.  A photo album of you and your partner together on various holidays, for example, will take you a long time to put together and she'll really appreciate the obvious effort you put into it.
Fulfills an obvious need. Does she travel a lot? Buy her a neck pillow for those long overnight flights. Does she go running at night? Buy her lightweight jacket with reflective edges.  Does she love cooking but has an ancient and barely-functioning microwave? Replace it for her.
Gives you something to do together. Believe it or not, your wife/girlfriend likes to spend time with you! Buying her a gift that you can enjoy together — a weekend getaway, a couples massage, a golf lesson — shows her that you want to spend time with her, too.  (Plus you get to enjoy the gift!).
Is unexpected.  This one isn't something you can probably afford to do very often, but a pair of plane tickets to Paris makes a great gift on a rainy November evening.  If you want to make a big impact, surprise her with a gift that's totally unexpected. (It doesn't have to be quite that expensive!).
Try to keep these five things in mind whenever you're buying a gift and you can't really go wrong.  If you can find a gift that covers more than one of the criteria above, you've got a definite winner!
Free Gift Ideas For Any Occasion
Here are a few gift ideas that you can give her at any time (not just on holidays or special occasions) without spending a dime:
Write her a poem and slip it inside her coat pocket or under her pillow.
Dedicate a song to her on the radio and tell her to tune in to that station at a certain time.
Write a simple love note and leave it under her car windshield wiper overnight so she finds it when she gets into her car the following morning.
Make her breakfast in bed without mentioning it to her in advance.
Send her an email while she's at work to tell her you love her.
Register a simple free website using her full name as a title (i.e., www.Squidoo.com/JessicaRaymond), add a few sentences describing how great she is, then casually ask if she's ever tried Googling her own name.
Find some old photos of the two of you together, print them off, and turn them into home-made fridge magnets.
Without being asked to do so, wash & wax her car or do all of her laundry while she's not around.
Give her a massage without her having to ask for it.
Write down 10-15 different things you love about her, and leave them scattered around the house for her to find over time.
Bigger Gifts That Make An Impact
If you're looking for a birthday gift or a last minute Christmas present, these might spark your imagination:
Weekend getaway for two:  Wherever you happen to live, there's almost certainly a resort or spa within 100 miles that would make a great weekend getaway for the two of you.  If you have children, arrange to ditch the kids with your in-laws (or whomever) in advance before you give her the gift.  Since you won't have any physical gift to give in advance, print off a collage of pictures from the resort's website and turn it into a homemade coupon.
Make a professional photo album online:  There are plenty of websites that allow you to custom-make a photo album, calendar, or other items that are customized with photos you've uploaded.  They'll then print off the finished product and mail it to you.
Jewelry with her in mind:  Don't just go to the store and buy her any old diamond ring.  Get something that's customized for her.  A necklace with her name in it. Some dolphin-shaped earrings if she's a lover of marine mammals. A ring with her birth stone in it –anything that shows you put some thought into it!
A day at the spa:  Most women love to get pampered at a spa or beauty salon. Grab a gift certificate that she can use on her own time to get a manicure, pedicure, massage, etc. Make sure you buy from a place that's reputable and offers a variety of services for her to choose from.
Magazine subscription:  Great for a Christmas stocking. If your lady likes to read, a magazine subscription to something related to her interests is an affordable yet thoughtful gift.
A potted plant:  Flowers are cliché and end up dying within a week. Why not get her a nice big potted plant that will fit into an empty nook of the house?  Make sure you choose a pot that matches the intended room's decor. If you want to make a big impression, get something tropical or uncommon.
Wine accessories:  OK, maybe this is just a personal thing, but I love wine. And I think a lot of women are in the same boat. There are plenty of wine accessories out there (aerators, decanters, stemless glasses, etc.) that she'll be able to use regularly.
Classes for something she likes.  If your partner is into cooking, pay for some lessons to an evening cooking class.  Or maybe you want to really go out on a limb and sign up for some dancing lessons that the two of you can take together?  Or maybe she's a gym rat and would like a three month pass to the local yoga class.
Lingerie.  Tread carefully with this one. But if you do it properly, she'll be thrilled to receive some sexy lingerie.  And best of all, she might just model it for you right after she opens the box!
Electronic accessories: Does your girlfriend or wife already have a smart phone, iPad, and 52″ plasma TV?  OK, fine. But I bet there are some useful accessories you could find for what she already has:  speakers to plug into her iPad, a sparkly pink case for her cell phone, etc.
There are many, many other options beyond the ones I've listed above. But these will hopefully give you some ideas and spark your creativity so that you can come up with a personalized, thoughtful gift that she'll really cherish.
As I said before: if you really want your gift to make a big impact, choose something that shows you've listened to her and understand her interests and her personality.  If you can manage to do that, you can't go wrong.
Best of luck!  If you want to add more gift ideas, please use the comments box below — we'd love to hear your suggestions.