I've been known as the guy that reunites couples. I've been doing that for 10 years. But sometimes, not everyone wants to simply just get back together.
You're here reading this because you're still attracted to your ex girlfriend, but you don't actually want to have a relationship with her again.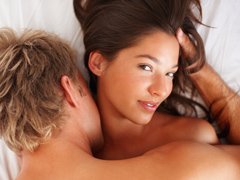 No, no, you just want to sleep with her and nothing more.
I'll teach you how you can sleep with your ex no matter what situation you're in.
Two Basic Scenarios
Okay, well there are two basic scenarios when it comes to sleeping with your ex girlfriend. One, you want to sleep with your ex girlfriend but you're afraid that she'll want to start a relationship with you again. And two, your ex doesn't want to get back together with you and maybe doesn't really want to see you that badly.
The first scenario is a lot easier to deal with, obviously. If you want to have a fling with your ex girlfriend but you don't want to exactly spring up a new relationship with her, then you're going to have to accept the fact that she probably doesn't want to just sleep with you.
So, unfortunately, this is going to take a little bit of manipulating on your part. I'm assuming you're going to be okay with this.
So if you just want a one night stand with your ex, then you should say stuff like: "Wanna get together for coffee? For old time's sake?"
The whole "old time's sake" is key here. This is insinuating that you somehow want to bring the past into contention, but you don't exactly want to keep things going for the long run. When you get together with her, then simply seduce her (you can use tips from this article if you want to know more about getting it on with her).
It's Sex or Nothing
After you have sex with her, you don't want to just run. You'll have to ease away from it. Tell her it was nice and it reminded you of the good old days, but nothing more. Don't go out of your way to contact her again to meet.
If you do end up seeing her again, make sure sex happens. Don't go out for casual drinks and nothing else — she'll get the wrong idea.
It's sex or nothing.
Now, if you're a guy stuck in the second scenario — that is, your ex girlfriend and you probably aren't on that great of terms, then it will take much more effort on your part to pull off.
You're going to have to do a few things before you can actually get your ex to agree to an one night stand. You first have to make her attracted to you again (and at this point, she probably isn't all that sexually attracted to you anymore).
May Have to Remake Your Image
So you're going to have to remake your image. When you contact her, make sure that she knows you're seeing another girl but it isn't serious.
Let her know that you're happy and that you want to get together for something light and fun. But take things a little slower — don't just ask her out. Text her but make sure that you're texting her for good reason (don't text her "hi" just out of the blue, she'll get suspicious).
Ask her a question that you know she only has the answer to. Something like, "What was the brand of air freshener you used in your car? I need to get one for mine."
After that, meet up with her and then seduce the *@#! out of her!
Good luck.