It's an old story – relationships tend to be exciting, dynamic, creative, romantic and full of life at first. Then, as the partners settle in, life gets in the way. Jobs, finances, housing, children and a myriad other important issues come up and interfere with a relationship. At some point, the partners may realize, "Whoa? What happened to us?" They find themselves scratching their heads. "How did we get into this rut? How did we let our relationship get stale?"
If this sort of thing has happened to you, don't despair. Most couples go through this at some point. Realizing your relationship is a bit flat and needs new life is a good step. Not realizing it would be worse, because you'd likely just keep cruising along obliviously until some sort of emotional explosion happened.
Here are five fun ways to breathe some much needed life, laughter and love back into your relationship. You don't need to spend a lot of money or even a huge amount of time. But you do need to pay attention to each other and commit to spending some time together.
1. Take a Walk
Let's start with something simple. Take a fifteen-minute walk with your partner every day, or every other day. You can do this any time of day that works for you both. Early morning before you go to work is fun – you can walk around your neighbourhood together and see the world waking up.
Even your familiar surroundings will seem magical and different at a time of day when you don't usually see them. You'll also see different things during different seasons. Depending on where you live, you may be out before sunrise in the winter, while in summer it may already be bright.
Walking is physically one of the best exercises for you, and emotionally it is also very healthy for your relationship. Walk and talk together.
Tell each other stories from your day, or talk about the day ahead – what's on your plate and what do you hope to achieve? Is there something you're nervous or afraid of? Tell your partner about it. Intimacy – true intimacy – means sharing the good and bad, the positive and negative aspects of yourself completely with your partner.
You can walk together any time of day – evenings are also nice, as you wind down from a busy day. Or meet at lunchtime and take a stroll together. On the weekends you might want to walk further, or go to some particularly pretty or interesting place to walk.
Think of your walk together as a kind of couple's meditation. Both of you get to leave the busy bustle of your day behind, even if only temporarily, and enjoy each other's company.
2. Mini Road Trip
Changing your location and the scenery is a great way to change your mood and your mind. Think about it – you spend most of your time in the same places, driving or riding along the same commute, day after day, shopping at the same grocery store, going to the same bank, going to the same gym. You see the same trees, buildings and street signs. These places are all familiar to you both, so familiar that you probably no longer notice them. So take a trip to shake up your sense of place.
It doesn't have to be a big trip, or an expensive one. In fact, you don't have to plan it at all. Just get in the car, or on the train, or on your bicycles and go somewhere else.
Even a town just a dozen miles away can be different enough to give you the feeling of having gone somewhere. Being in a new situation, new surroundings, resets your brain and forces you to begin noticing what's around you.
Try taking a few quick weekend trips. Even a few hours is enough time to travel to a nearby town and explore it. Eat lunch or dinner at a new restaurant. Stroll the streets and talk about the place.
When you come home from a trip, your normal surroundings will seem slightly different, and the two of you will have been changed a little bit, too. Trips like this, which will include both happy and frustrating experiences, like the rest of life, will also give you plenty of good "remember when …?" stories to share with each other and laugh about.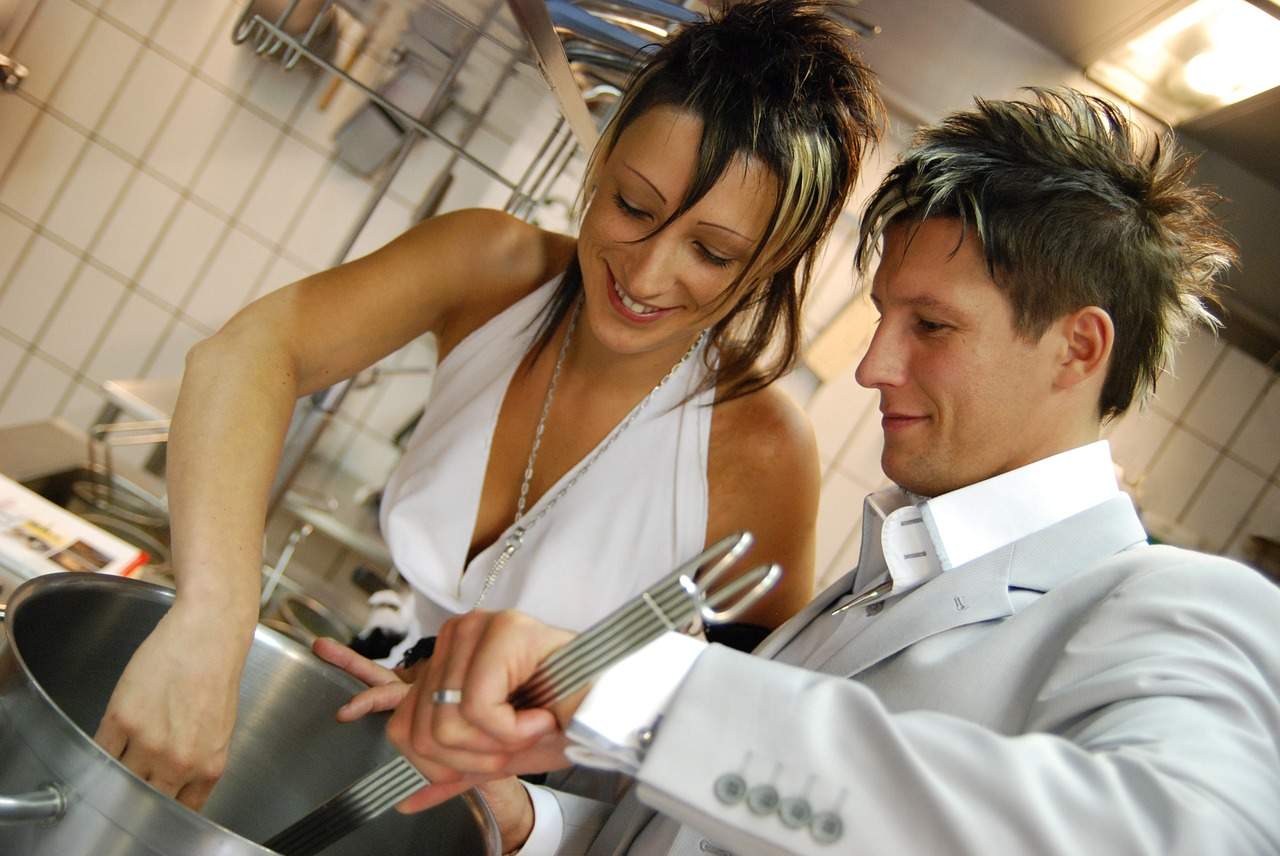 3. Learn to Cook
Taking any kind of class where you learn something new is good for your brain. Some subjects, like music, foreign language and art, actually change your brain when you learn them.
Some of your neurons get rewired and your mind is actually physically different afterwards. One of the best types of classes to take as a couple is a cooking class.
Cooking is good because you do it together and it is a hands-on type experience. You'll meet other interesting people and perhaps make some new friends. And you'll also learn a useful, valuable skill that you can continue to use together at home for many years.
Established restaurants in most cities offer cooking classes or culinary programs of some sort. They are popular as "team building" type exercises for corporate groups, and they can help your relationship in the same way.
As you two laugh, cry, enjoy or even suffer through a dynamic, creative experience together, your friendship will deepen and you'll grow closer in new ways. And once you've learned a particular type of cooking, you can continue doing it together at home.
4. Work Out Together
Just as a shared walk, or shared trip, or shared cooking class can bind you closer together, so can a trip to the gym. Try something different – don't go to the gym together but then separate, shove in your ear buds or clamp on your headphones and suffer in isolation in the weight room or wherever.
Find a group exercise class you can take together. Most gyms offer all kinds of classes, from straightforward cardio to indoor cycling or even salsa and hip hop dancing.
Here again, the point is to have a new experience together.
Exercise is good for your body and your mind – working out releases endorphins, which are the brain's natural happiness chemicals. Working out together as a couple lets you both release stress, have fun, and feel good together.
5. Join a Club
 Relationships fall into ruts, or seem to, because we do the same things over and over in the same places. So another good way to revitalize your relationship is to get out of your home and shake up your routine a little. Consider joining some sort of club together. Do a little research and see what's around in your area and talk together about what you might be interested in.
Clubs include physical activity groups that hike or exercise together – look for backpacking groups or a sailing club perhaps. Others are more intellectual, like chess or other gaming type clubs. Remember, by joining a club you aren't required to stay in it forever.
If you end up not liking it, you can always try a different one. Look around and you will probably be surprised at what's on offer in your area. Nature groups meet regularly to peer at birds through binoculars, for example. Other groups visit local museums. Amateur sports clubs include everything from bowling to soccer or softball.
To sum up – it doesn't really matter what you do to revitalise your relationship, so long as you do it together.