Despite the negative portrayals in movies like Catfish and the easy punchlines from comedians and friends alike, meeting your significant other online has become increasingly popular.
So popular, in fact, that one in three marriages that took place between 2005 and 2012 originated online. From dating sites to social media, from Craigslist ads to MMORPGs the online "sea" of potential mates is exponentially larger than anything you can find at work or a local bar.
And while meeting someone special online poses its risks and presents unique challenges, a 2013 study at the University of Chicago, has shown that couples who successfully make it to an offline relationship and, eventually, down the aisle, actually have a higher chance of staying together and report a higher overall satisfaction with their relationship.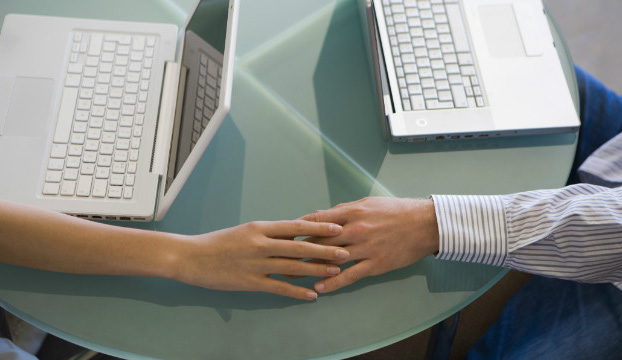 Understanding the Online Dating Community
The main author of the 2013 study, John Cacioppo, generated his findings thanks to a Harris Interactive survey of 19,131 married people, 45 percent of which met initially online. The results revealed not only that online relationships had 1.6 percent fewer breakups, but also pointed to a specific demographic who use online dating services.
According to the survey, online couples were most likely to be in their 30s, have completed a higher education, and count themselves among the affluent. Race, ethnicity, and sexual orientation did not factor in. What this reveals is that young professionals with a busy work life tend to utilize the internet for dating. These people, prime candidates for meeting potential mates in bars or at work, have shifted their focus to a more accessible platform perhaps due, in part, to the success stories of other members of their peer groups.
Why Go Online?
Though Cacioppo's study did not aim to answer the "whys" of online dating success, the statistics themselves reveal a few distinct possibilities. Among the most prominent demographics using online services (i.e., young, affluent professionals) the environment of peers looking for similar outcomes (i.e., marriage, not a hookup) statistically improves their chance of success.
The asynchronous nature of online communications such as email allow these busy 30-somethings the chance to fit dating into their life without the commitment required of official "dates" in the early stages. A more time-convenient getting to know you stage further helps them to sift through the potential partners to find the "right" one without wasting time.
Finally, though few of their services have been scientifically tested, the myriad of available dating service algorhythms meant to match people based on values rather than interests or chemistry sets these people up for success by its very nature.
Countless psychological and relationship studies have proven that shared values and core beliefs is far more important than initial attraction or even shared hobbies in the endurance of a relationship.
Tips for Winning the Online Dating Game
Despite its widespread success, online dating is by no means a sure thing. For every couple that successfully walks down the aisle after meeting online there are dozens of failed dates and online relationships that couldn't endure due to distance. That's why having your priorities straight and knowing what it is you really want out of a relationship once it invariably goes offline is so important.
It is also important to maintain perspective and take a "less is more" approach when it comes to reading profiles and responding to others' ads. Many relationship and psychological professionals warn that it is easy to fall into a "grass is greener" mindset when reading through profiles, never settling for one person since there are always a dozen more that seem "better."
Furthermore, reading the profiles of the "competition" also has a negative effect on some online daters who begin to worry that they don't stack up against the competition. Like any relationship or dating scene, feeling confident and able to attract people will help you to actually do so.