Earlier today, I got an email from Jared in Irvine, California. Jared wonders:
My girlfriend of nine months says she wants to take a break. What the hell does that mean?! Should I be worried?? I haven't cheated or done anything wrong at all — I don't think!
Hi Jared, thanks for your question. There are several possible explanations for your girlfriend's desire to "take a break," so let's take a look at some of the possibilities.
Don't Panic
To start with, I wouldn't panic either way.  As mentioned in my article on how to get an ex back, there are strategies you can use to effectively get her back even if the situation seems pretty desperate. So, even if the "break" seems permanent, don't give up hope quite yet.
Secondly, keep in mind that it's very possible your girlfriend is even more confused than you are. She may be having an internal debate as to whether or not she wants to continue in your relationship.
This is especially common when the relationship starts becoming serious, when commitment problems can rear their ugly head.
You say that you "haven't cheated" (that's good!) and "haven't done anything wrong."  That's definitely good to hear, but consider that you may have done or said things that maybe made her have second thoughts about your relationship.
Mistakes? What Mistakes?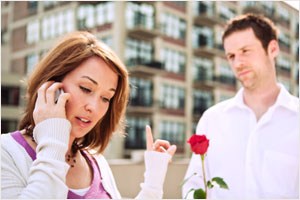 Before you start trying to figure what you did wrong, know this: sometimes mistakes can actually be very hard to spot. Were you too needy, for example?
Or perhaps you got a bit too jealous / controlling when she wanted to hang out with some old friends from school?
Sometimes, things that seem positive (i.e., calling and texting her throughout the day to tell her you love her) can be interpreted differently by your partner (i.e., she is frustrated that you keep contacting her while she's busy at work).
Talk About This With Her
Communication — an honest, open conversation with your girlfriend — might be a good idea if you're really truly confused as to why she wants to take a break.
But don't let yourself get too needy and emotional, because begging and pleading and demanding answers can be a very bad idea if she's already doubting the future of your relationship. But then again, if she's willing to talk, honest and open communication is always good.
It's also possible that your girlfriend is using the "let's take a break" line as a less hurtful way of breaking up with you.
Maybe she's worried that you'll be heartbroken and can't face that, so she's trying to "ease" you into the idea of a breakup. (Little does she know that she's actually not doing you any favors by taking that route).
If indeed your girlfriend's "break" is a thinly-veiled excuse for a real breakup, then you should immediately head over to this article on how to make your ex change their mind and start chasing after you.
What To Do
Now, as for how to proceed, I'd suggest you "play it cool" for now. Go along with the break and make sure you use the time apart to work on your own life.
Hang out with other girls, have lots of fun and enjoy an active social life, and work towards life goals in work or school. When she eventually gets in touch to end the break, you'll get a better picture of where her mind is at.
And you'll be better positioned to pick up where you left off and enjoy a healthier relationship in the future.
Best of luck!