Someone asked me an interesting question recently: "Why does my partner get angry when I ask who he's texting?"
I wanted to write about this because it is a real hot-button issue in many relationships, and it often leads to ugly fights and even breakups at times.
Let me start off by asking a different question.
Why do you ask your partner who he is texting? Answer this question honestly before you go any further. Is it because you are just generally nosy? Or are you afraid he is texting some other romantic interest? Are you afraid he's cheating on you?
Taking a Look at Yourself

It's always best to start with your own issues before you start worrying about what your partner is up to. If your answer is some form of fear, then that's something you can work on.
Fear is very, very dangerous in a relationship. If you're acting out of fear, then you can quickly poison your relationship so badly it can't be saved.
But the problem is that fear isn't always recognizable. It tends to show up more commonly as anger. And fearful, angry people aren't very attractive or fun to be around.
Let me give you an example. Alicia is afraid her boyfriend doesn't love her anymore. She's afraid he finds her unattractive and that he's secretly looking around for another girlfriend, or just some girl to hook up with. She sees him texting on his phone, smiling and laughing. This strikes right at the heart of her fear – he must be texting another woman!
"Who are you texting?!" she demands in an angry, suspicious tone.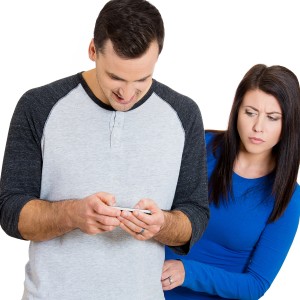 You can write the rest of this script yourself – you know exactly how it will go.
Note that all this happened in Alicia's mind. She's afraid, so she demands to know who her boyfriend is texting. She's afraid, so she gets angry. Then he gets angry and they have a fight. I don't know who her boyfriend was texting.
You don't know, and she doesn't know either. He could've been texting a coworker or a friend of his. It doesn't matter who he was texting. What matters is Alicia's fear and how she expressed it.
How could this go differently? Well, what if Alicia told her boyfriend her feelings? What if she had a conversation with him where she said, "I don't feel like you're attracted to me anymore, and I'm afraid that you might cheat on me or leave me for another woman."
That's not a perfect solution, but it is certainly the beginning of a very different conversation than, "Who are you texting?!"
The Control Factor Built Into, Who Are You Texting?
The demand, "Who are you texting?!" is, in a way, an attempt to control your partner. You are demanding the right to know private details of his life, which is a kind of snooping, if you're honest about it.
Do you read your partner's email? Do you follow him after work to see where he goes? Do you try to catch him in a lie so you can confront him? Do you demand that he always tell you where he is and what he is doing? Do you go through his trash looking for … I don't know what?
Some people feel that this sort of disclosure is automatically expected in a committed relationship. But I wouldn't assume that. Even married people have private stuff they don't always share with their spouses. That's just the way people are. You can either accept it or fight it.
Part of the problem, as in so many relationship troubles, goes back to the brainwashing we all get from the Romance Industry in Hollywood. When you fall in love you are supposed to forget everyone and everything else. Love is supposed to be the panacea that solves all your other problems — but that's not true.
Love is great, committed relationships are great, and marriage is fantastic. I am in favour of them all. But I also believe that two consenting adults should admit the truth, that they are adults with independent personalities and that one day they could change their minds and decide to end their relationship.
I'm not saying it is going to happen. It's not at all inevitable. But it's important to acknowledge that it could conceivably happen.
Accepting that simple reality will draw a lot of the power out of your fear and allow you to relax your grip on your partner a bit. That will make your life more enjoyable (snooping isn't a fun life – spies live dark, ugly lives most of the time) and will make you a happier, more easygoing and therefore more attractive person.
How to Frame Questions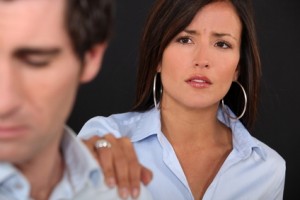 Yes, your partner might be texting someone he's romantically interested in. He might be cheating on you. You can ask him a straight question any time you want – you are two consenting adults, after all.
But pay attention to how you ask the question, and what your real motives are. Demanding to see his phone is another attempt to bully and control him, and no matter what happens after that, you've weakened your relationship.
You could just cut to the chase and ask him what you really want to know. "Why do you get angry when I ask who you are texting?"
Your partner probably gets angry because he resents you asking since he knows this ultimately means you don't trust him and you want to control him. So he resists your attempt to control him and you end up in a fight.
That old saying, "If you love someone, set them free …" has a lot of truth in it. Let your partner be free to text or call or email whomever he wants.
If you focus on yourself and on the aspects of your relationship that you can control, and let go of the aspects you can't control (i.e., him), then your life and your love relationship will be a lot easier.