Where do you go to meet quality single women? That's an age-old question. If you're tired of the depressing, dehumanizing bar and club scene after trying it, or if you're lucky enough to know it's not for you even without trying it, that still leaves you in a quandary.
Where are all the single women you want to meet, and who want to meet you?
The singles who hang out in bars and clubs are usually there because they are too unimaginative to think of a better place to go, or because they're a bit too lazy to try something different. The last time I went to a bar with a group of single friends it was a depressing experience.
We stood and sat around talking and watching the various barflies on their stools, and then there was a fight between a couple of drunks over the pool table, at which point we left. That was years ago, and it was enough for me.
What Do You Want in a Single Woman?
So what kind of single women do you want to meet? That's the question you should be asking yourself. When you ask it and answer it honestly (that's not always easy), then you will be able to figure out where to find them.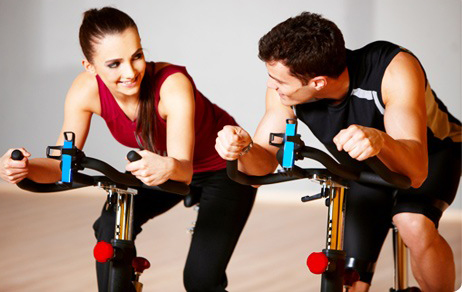 If you're looking for smart, happy, fun, interesting, healthy, fit women, then you need to go to where they hang out. One good place is a gym or fitness club.
But if you go there and just hang out in the weight room pumping iron with your earphones in, cutting yourself off from all interaction with other human beings, you're just wasting your time.
(Let me take this moment to say that one of the best things you can do to increase your chances of meeting other people is to ditch the headphones altogether. They send a message that you aren't interested in anyone but yourself, and that's a turn off).
So, go to the gym and join a fitness class. There are all sorts of classes, from spinning and hip-hop dance to boxing and cardio.
The women you meet at a gym are far more likely to be healthy and health-conscious than the ones you pick up in a bar. They are lively and fun to be around. And you may lose a few pounds along the way.
Interact Socially in Classes, Etc.
If the gym isn't your scene, then try taking some classes at your local community college. Sign up for whatever interests you. Many big universities now have special programs for working people to study at night.
Find one of their online catalogs and just browse through it. You're likely to find classes on everything from poetry to mathematics to art and science and engineering, everything you can imagine, even subjects you never heard of.
Just by using and engaging your mind, you will make yourself a more interesting and attractive person, and you will also meet single women who are thoughtful and curious and like to study and learn, too.
Your local YMCA or community centre is another place to check out. Such places often have clubs that play chess or learn particular types of dancing or classes in foreign languages. Pick something you've always wanted to try, or something you think would be an adventure.
Once again, you'll be doing yourself a double service – on the one hand you'll be making yourself more fun and interesting, and at the same time you'll be meeting all sorts of people and getting to know them.
Outdoor Options Work, Too
If you love the outdoors, join a hiking group like the Sierra Club. Camping and hiking trips are wonderful adventures and they also give you a chance to really get to know other people pretty well.
At the end of a two-week mountain backpacking trip, you will know the others in your group very well – trust me!
Sailing clubs and other outdoor type clubs are also fantastic places to meet fun, single women. They are there because they like being outdoors, enjoying life. That's a good thing in a potential partner.
Then There's Dancing and Cooking (Not at the Same Time)
If the outdoors doesn't appeal to you, try something like a cooking class. Community centres sometimes offer them, but these days so do many restaurants. One of the best things about cooking classes is that you often work with a partner or several other people in a group, which gives you a chance to get to know each other.
And you may gain a few pounds along the way.
Many dancing classes or clubs – think salsa or ballroom or square dancing – have a perennial shortage of men. Join one of them and you will not only have fun and get exercise, but you will also give yourself a statistically higher chance of meeting women, since there's less competition there.
Every one of these activities, by itself, makes you a more interesting and fun person, whether or not you meet a single single woman. That fact makes all of them automatically better than going to a pick up bar, which doesn't improve you in any way.
After you take a French cooking class, or learn to sail, you will be more fun and attractive to others, even if you haven't met them yet.
That's a good gift to give yourself.