Whether you've just been through a breakup, are inexperienced, or are going through a period of transition, you're asking yourself "am I ready to date?" But how can you tell the difference between nerves and real signs that you're not ready to date?
These Are Signs You're Not Ready To Date
---
Dating's not always as simple as it may seem. If you start dating too quickly after a breakup, you could be in for a world of hurt. Look for these signs that you're not ready to date.
You wish you could skip right to the relationship
Everyone feels this way every once in awhile–you'd like it if you could just skip the "getting to know you" small talk and jump right into a committed relationship. If this is how you feel then this is a sign you're not ready to date right now.
Most people go into dating with the goal of finding someone to start a relationship with or marry but if you're too focused on the end goal, you may fail to build the relationship that you want.
You're constantly comparing your dates to someone else
Whether it's an ex, a crush or some hypothetical dream man, comparing potential dates to other men is a sign that you're looking for a reason to say no or break things off. It's only when we stop comparing and judging people that we're really able to get to know them and find a real connection. Right now, this is a sign you're not ready to date.
RELATED: Why Do Men Pull Away and Lose Interest
You're not excited about it
Dates may be nerve-wracking but they're also exciting. If the thought of meeting and dating new people puts you to sleep, then it may not be your time. Excitement is highest early on in a relationship because it's all brand new. If you're already bored, this could be a sign you're not ready to date.
You're just worried about missing out
When I talk to women in your situation they often express the fear they might miss out on the love of their lives because they weren't in the right headspace for dating. I often tell them to wait.
The beginning of relationships are so important. You could just as easily miss your chance by dating a guy who really likes you before you're truly ready.
You're enjoying being alone
Dating doesn't have to come at the cost of your solitude but relationships do tend to cut in on your alone time. Independence is important, especially when you're young or in a period of transition.
You just want sex
You don't have to date to have sex. That's one of the only benefits of modern hookup culture. It's up to you whether or not you're willing to take the risks but I definitely recommend it over rushing into a relationship you don't want simply to fulfill your need.
You're feeling pressured
Family and friends want to see us happy, and for many that means trying to push us into dating whether or not we're ready for it. Especially as a woman, there's a lot of pressure from society to fall in love and settle down. If you're going on dates just to keep up appearances, then you're probably not ready.
You're reading this article
Chances are if you've watched to this point it's because you've been considering dating but just aren't sure. Listen to your gut on this one. It doesn't matter where you're at in life, there's no reason to push yourself into dating when you don't feel up to it.
You don't know what you want
This is a very common reason people avoid dating. They're waiting to figure out what they want out of a relationship before they begin dating someone new. If this sounds like you you then I have good news–this is actually a reason you SHOULD be dating.
So many people see dating as just the beginning of a new relationship. Dating is actually be the process of getting to know different people in order to learn more about yourself and what you want. Go into dating with this attitude and an open mind and it can be a truly transformative experience.
RELATED: How To Make A Man Fall In Love With You 
Still here? Maybe you've realized you do want to give dating another try and you're for that extra push. It's hard truth time:
Dating is never going to be 100% fun and easy.
Like anything worth doing, dating is a challenge that you have to face at some point. There are always going to be signs you're not ready to date and there's never going to be a perfect time to start dating. The beauty of dating is it's not a commitment. You can always change your mind.
Looking to relearn the dating game? I always recommend Amy North's Devotion System to women just like you.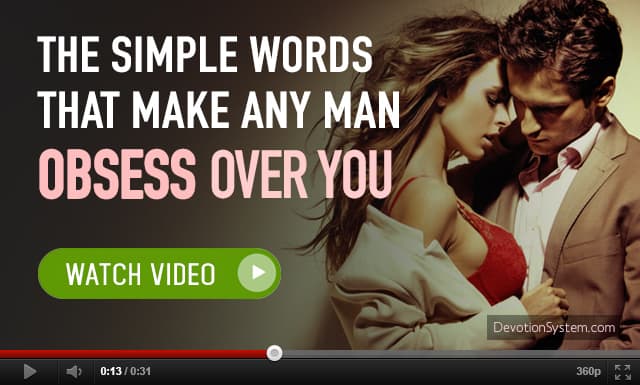 I also want to reiterate that even if you're not ready for dating, you're not ready for a relationship. Don't try to jump into something simply to stave off loneliness, you'll only end up getting hurt.
In any case, if you're still feeling like you're not ready, you need to know that that's just fine. Identifying this feeling and actively making the choice to take a break from dating is healthy and can put you in a better headspace when you do decide to give it another try. So stop feeling guilty and focus your energy on really getting to know yourself.
Does He Like Me?
I've created a quiz that will tell you definitively if a guy likes you… or not.
Click here
to take the quiz and and discover his true feelings.