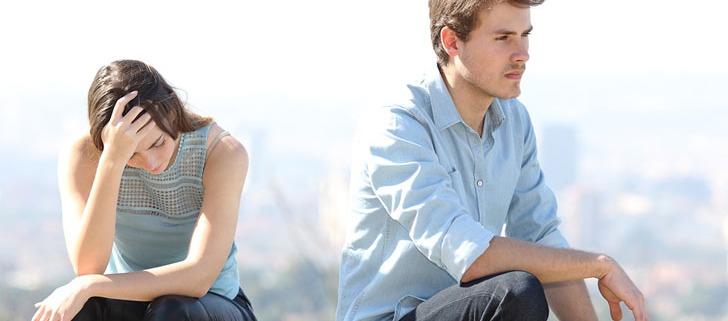 It's a pattern we see again and again: men who will act like your boyfriend, until the time comes to put a label on it and then they run for the hills.
But still, they won't stay away for good and you end up in relationship limbo for months or even years.
Well today I wanted to talk about WHY this is. And don't worry, if you're wondering why he won't propose, we'll talk about that too.
---
The truth is that there are actually several things at play here that might be preventing him from treating you the way you deserve.
Now I want to say that this doesn't excuse his behaviour–he's probably stringing you along and is failing to communicate what he wants, and that's not fair to you, no matter his reasons–but this might help you to understand his point of view and get one step closer to getting the outcome that you want.
The Men Who Won't Commit But Won't Let You Go
So first, let's get a basic profile of this guy. He's funny, he's kind and loving and he treats you right…most of the time. But whenever things get at all serious, it seems like he's got one foot out the door. Here are the hallmarks of the man who won't commit, but won't let you go.
He's very inconsistent
Now, obviously we're not talking about guys who are clear and up front with their desire for a no strings attached type of relationship.
What makes the man who fails to commit so frustrating is that there are plenty of moments when his love shines through and it feels like things would be perfect, if he could just maintain this level of interest and love. But before you know it, he's gone cold or suddenly become too busy to see you at all.
He's mysterious to a fault
Mystery over history is great when it comes to the first few dates, but if he refuses to answer any personal questions, this is a red flag that he's unwilling to get close to you. Now there are a few reasons why men will act this way.
Maybe he's trying to avoid this closeness while still getting laid and making you fall for him. Maybe he's hiding something about his past or current life, like an ex, or, I hate to say it, a whole other relationship.
He's romantic only on his terms
Part of the reason that men avoid commitment is because they want to be in complete control. This will become evident when he showers you with love and affection when it suits him, and when you need him for something outside of his comfort zone, say, going to a party with your friends from work, he suddenly can't be bothered.
He avoids the conversation at all costs
Many of us dread the "what are we" conversation because it can be risky and awkward, and more than anything, because it means a change to the comfortable status quo. But men who won't commit go to any lengths necessary to avoid having this conversation. It often makes me think of a term used by psychologists: DARVO.
DARVO stands for "Deny, Attack, and Reverse Victim and Offender. This means that, when someone's behaviour is being scrutinized and they want to avoid accountability they'll deny what you're saying. If that doesn't work, they'll attack you to try to flip the conversation on its head. And, if all else fails, they'll try to turn YOU into the bad guy.
This is a form of gaslighting and while it can be extremely toxic and damaging, you'll also see it in more commonplace situations like this one.
I don't know about you, but once I heard it laid out like this, I began to see this tactic in use everywhere. From politicians, to employers, to past boyfriends who don't want to be called out for their shitty behaviour.
So if you try to explain how he made you feel taken for granted, and you leave the conversation feeling like it's your fault, this is DARVO at work.
It's never the right time for him
Many guys will seem to have a good reason that they won't commit to you. Maybe he's waiting until he has a better job so he can properly provide you the life you want. Maybe he's too busy at work to treat you right.
Maybe he's dealing with personal problems that take up a lot of his time. These excuses are often just that: excuses. Life is hard and it can get in the way of us living the lives we want, but if he really wanted, he'd make it a priority.
The one exception to this is if he's holding off on marriage for a few years until he can properly provide. If you're expecting a proper wedding and he simply can't afford it at this time, then cut him some slack.
RELATED: Do NOT Marry These Kinds Of Men
There's no use going into debt just to have a big wedding. There are other ways he can prove his love to you that don't cost thousands of dollars. But the same excuse does not hold for not moving in together, getting engaged or consistently treating you with love and respect.
Why Men Won't Commit (But Won't Let You Go)
So these are the hallmarks of a guy who won't commit, but what are the underlying causes that make him act this way? Well you may be happy to find out that it has nothing to do with you and everything to do with his own issues.
Fear of commitment
This is the one that everyone points to when it comes to men failing to treat women right, but what does it mean REALLY? Fear of commitment is often tied to the fear of being vulnerable.
To really commit to another person, you really do have to put all of your eggs into one basket. And then, if things don't work out, you'll end up alone and in pain.
Men figure they can spare themselves this pain by never truly getting that close to you. Obviously, spelling it out like this it's clear that this is a pretty ludicrous idea.
If you refuse to get close to someone then you're already alone, and the pain you're avoiding now will only come on later when your refusal to commit catches up with you. But this is happening at a subconscious level, so logic doesn't factor in.
Fear of commitment is also tied to a fear of communication. I'm sure no one will be surprised when I say that men have a lot of difficulty expressing their feelings. This is well-documented and can be seen everywhere in our society in things like violence and war, alcoholism and even suicide.
QUIZ: "Does He Like Me?"
Thankfully, with movements towards openness and honesty about mental health, it seems like these trends are starting to shift in the right direction. But it doesn't change the fact that men are often unable or unwilling to put in the work to communicate with their partners and without that, true commitment is impossible.
Different relationship goals
If you're watching this then I'm sure that you're looking for a real partner. Someone you can tell anything to and who will be there for you no matter what. Someone who is in it for the long haul.
And there's a good possibility that your man really does just want sex. Or maybe he wants all the benefits of a relationship without any of the accountability required.
This is the contradiction at the heart of modern dating and until the two of you really connect on a deeper level, you aren't going to really know whether or not a committed relationship is going to be possible between the two of you. So take most things he says early on about his intentions with a grain of salt. He might talk a big game but, eventually, his actions will speak louder than his words no matter what.
Current social trends
The current dating landscape is much different than it was for most of human history. And I'm not going to tell you that things used to be better and more romantic. In fact, in the past, women were basically treated as property.
Men had no objections to getting married because there was also nothing stopping them from cheating on their spouses. In fact, it's the rising agency of women that have men more leary about committing to someone.
Now, if they mistreat their wife, they can be hit with divorce papers and alimony.
Does He Like Me?
I've created a quiz that will tell you definitively if a guy likes you… or not.
Click here
to take the quiz and and discover his true feelings.
This, along with the dire state of the economy, is why people are getting married later, if at all. People know that marriage isn't necessarily forever anymore and they really have to have their shit together if they want to build a marriage that lasts.
You're not the only one he's dating
Some men won't commit because they're still playing the field. This is why he might be keeping his personal life to himself, always busy with "friends" or otherwise unwilling to discuss the future.
That's why open and honest communication is so important. You might see your relationship in a completely different way than he does and that never turns out well.
He wants to remain independent
This is the main reason that men give women when they refuse to commit to a proper relationship. Mostly what this means is that he wants to avoid accountability. For example, if you two are "just hanging out" and he wants to go backpacking through Europe for six months, then that's his prerogative.
But if you two were in a committed relationship, that's something the two of you have to discuss and figure out together. In reality, your relationship might look almost the exact same on paper, but without that commitment, he can much more easily dip out and leave you all alone.
He loves you
This is, unfortunately, true of many men who won't commit but won't let you go. On one level, he wants independence and does not want a relationship but on the other, he is in love with you. This is the contradiction that he's dealing with.
Many people say "if he really loves you then he will want to commit to you, and I hate to say it but that hasn't been my experience. Whatever his reasons are, he loves you but does not want to commit.
And this is why I recommend having the relationship talk earlier rather than later, because if you two have fallen in love and you still aren't on the same page about what you're doing, then sometimes getting to that next step can become impossible.
What To Do If You Want Him To Commit
So that's WHY men won't commit in a nutshell. There are social and practical reasons from his perspective and there are also some potential deficiencies on his part like the inability to communicate.
But what are your options moving forward?
The first option is to just keep doing what you're doing. Keep spending time with this guy, get more attached and let him break your heart every time he pulls away. This is, obviously, the least effective option and since it hasn't worked so far so I expect that he's not just going to wake up one day ready to start treating you right.
So let's move on to the best option: you need to have an open and clear discussion about the relationship, what you're looking for, what he's looking for, and see if you two are able to come to an understanding where you both can be happy.
I know many women avoid conversations like this but if you're here then it's clear to me that continuing to put it off is no longer serving you.
Don't be accusatory, angry or otherwise confrontational about it. You don't want this to turn into a massive fight, or worse, for him to agree to be in a real relationship, just to avoid confrontation.
RELATED: 10 Red Flags to Look Out for In A New Relationship
This is why I caution women against using ultimatums to make this happen. I know plenty of women who have done this and it's worked out for them but, to me, it feels like it really kills the romance to have to manipulate a man into sticking around. You'll never really know if he wants to be your partner or just doesn't want to be alone.
The next option is to take a step back and consider your role in all this. If you two haven't been together for six months and you're upset that he won't meet your family or move in together, then maybe you need to relax and give it time.
If you can't, ask yourself why. Maybe it's your issues around codependence and abandonment that are driving you to push this relationship forward even though the time hasn't come for that. I can't answer this one for you.
You'll need to look at your own past relationships and even your parents' relationship. I recommend doing this with the help of a licensed therapist if you want someone who can really be objective about what's going on inside of you.
The fourth option is to leave him. That's really it. You can't make someone change if they don't want to. And even if he's the perfect guy in every way, the fact that he doesn't want what you want makes him the wrong guy for you at this time.
I know you've spent all this time with him and you're worried about giving all this up, but the longer you stay with someone who isn't right for you, the less time you spend finding the person who is.
I wish there was something else I could say that would make this all easier but unfortunately there isn't. Leaving a relationship is a hard choice, and no matter what, it's going to be painful, but, I think if you look deep enough inside yourself you'll know whether or not this is the right choice for you.