There are as many reasons to fall in love as there are to grow apart.
But what does the data say about why people break up?
To find the real answer to why relationships end and how you can stay together, we asked over 1500 people for their help.
We put together this Breakup Diagnostic Survey with a dozen questions and it yielded some findings that we didn't expect.
Let's dive into the survey results and talk about what they mean for you and your relationship as well as relationship dynamics in general.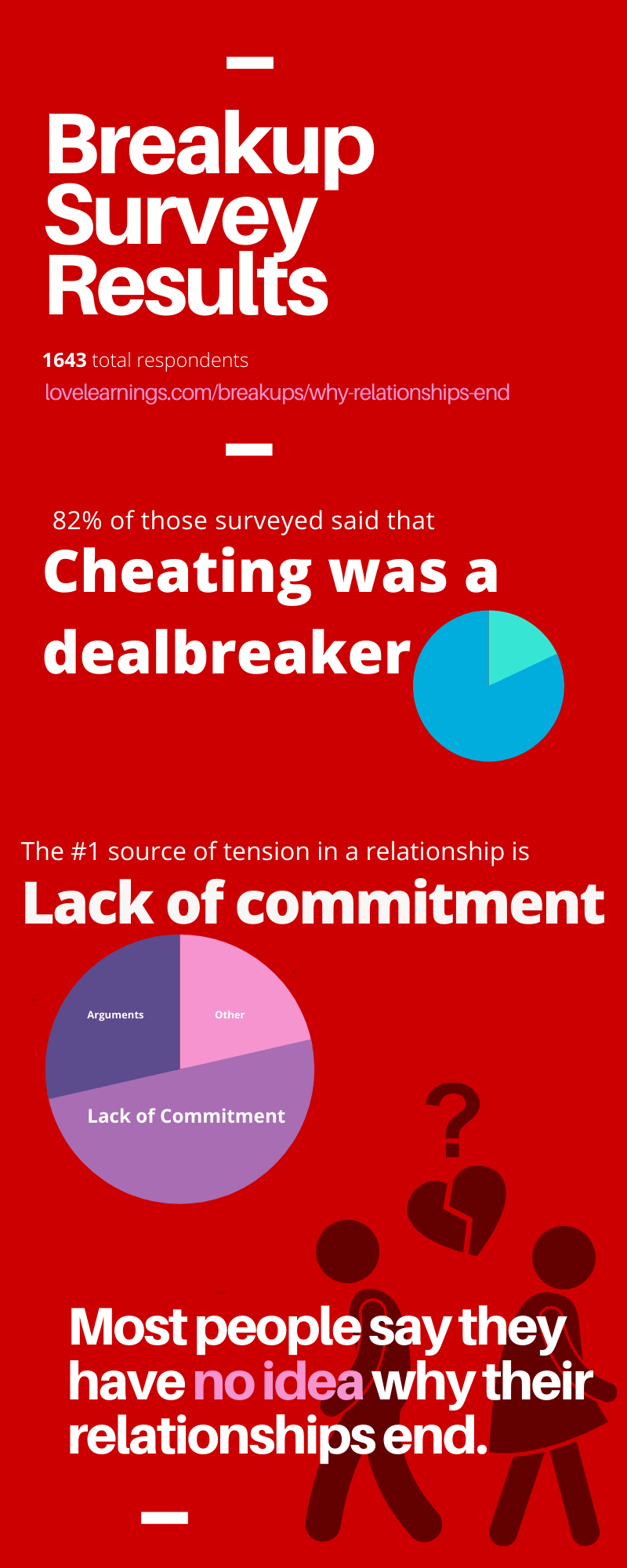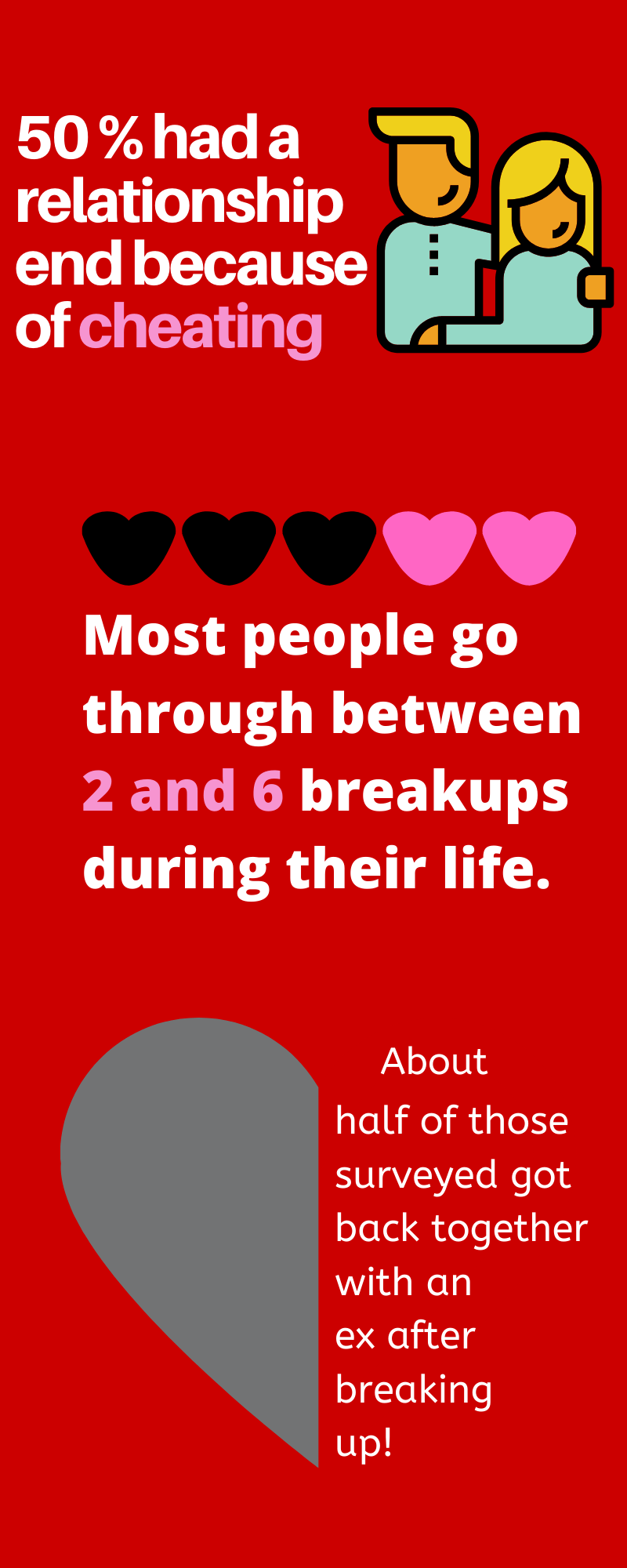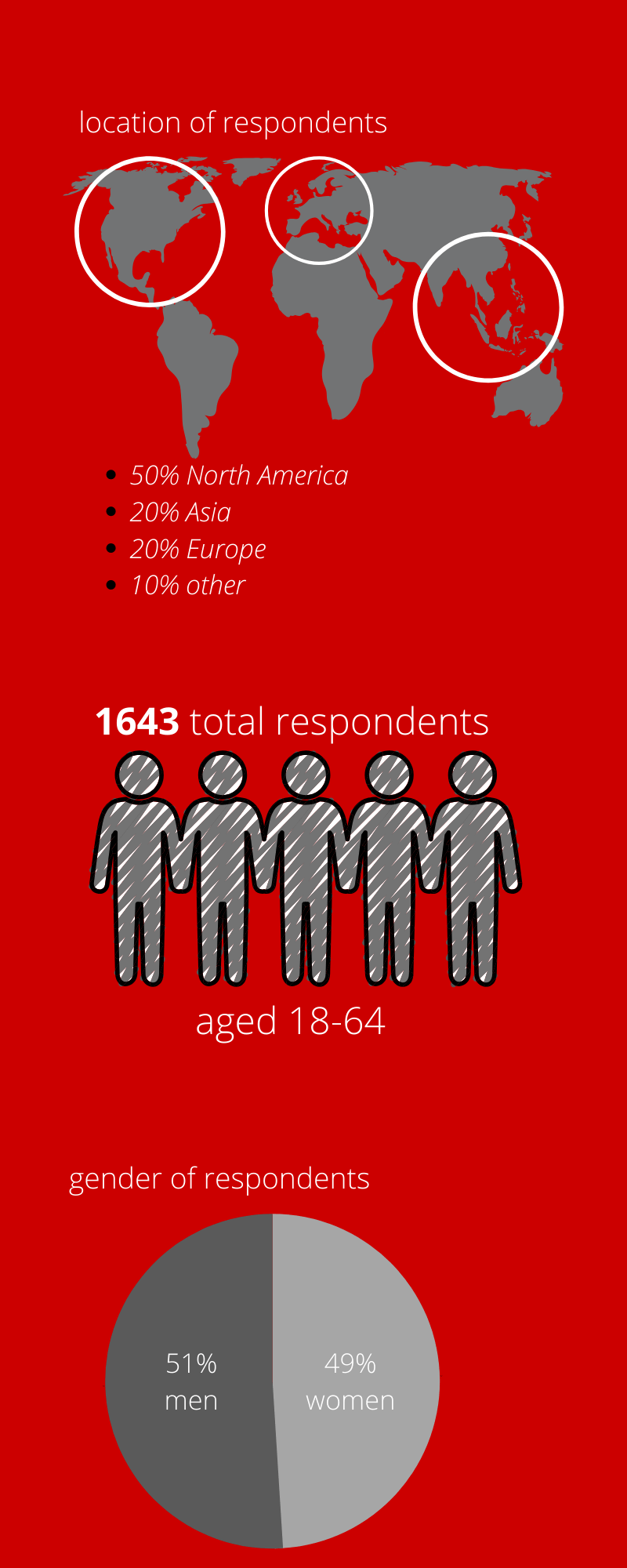 ---
Breakup Survey Reveals Why Relationships REALLY End
Spoiler alert: your answers fit in with what I've been saying about breakups for over a decade now… There was only one result that truly shocked me, so stay tuned for that.
Finding #1: Everybody Breaks Up
First off, if you've been through a breakup recently and you're feeling sad, lonely, and beaten down, you should know that you're not alone. The vast majority of respondents said that they too had been in a breakup within the past year. So just remember that breakups do happen to everybody, regardless of personality, looks, and position in life.
Most people go through between 2 and 6 breakups during their life.
Only 5% of survey respondents hadn't been through any breakups at all. Congrats to the lucky few. I'll do my best to keep it that way!
Finding #2: Getting over a breakup takes time
Most people take over a year to get over a breakup. I don't care who you are, that's a lot of tears and ice cream. You can use this time to wallow in sadness, or you can use this time to improve yourself, your outlook, and your life.
Check out my Ex Factor Program for a comprehensive guide to winning back your ex.
Finding #3: You CAN get back with your ex
Don't worry, this survey is not all doom and gloom. We also asked you if you'd ever got back together with an ex after breaking up and almost 50% of you said that yes, you have in fact reunited with an ex after breaking up… I like those odds.
50% reunited with an ex after breaking up!
For those of you skeptics who think that you can't have a second chance at love, read 'em and weep. Even if your ex is ignoring you right now, you really can win your ex back and enjoy many happy years together.
Finding #4: commitment is key
We found that the number one source of tension in relationships was a lack of commitment.
If you're in this boat, it means that either you or your partner wouldn't commit yourself fully to the relationship and that this created bad feelings, arguments, and eventually caused a rift that couldn't be fixed by love alone.
The number one source of tension in relationships was a lack of commitment.
The problem here goes beyond lack of commitment. It's about expectations and status.
You two want different things from one another. Maybe you want a house and five dogs, while your partner just wants someone to keep them warm at night.
This imbalance threatens to topple your relationship if you two don't get on the same page early and often.
Surveys like this one are just one small part of the thousands of hours of independent research I've put into developing my Ex Factor Program. The very same program helps people reverse their breakups EVERY DAY.
I've distilled this information into a free video presentation that takes you through the process in detail.
Finding #5: Most people don't know why breakups happen
This is the one that truly shocked me. We asked you why your last relationship ended and the most common answer was "I don't know".
Most people have no idea why their relationships end.
This information is extremely important whether you want your ex back or you want to start a new relationship. When novelist George Santayana said "Those who do not learn history are doomed to repeat it" he wasn't just talking about war and famine.
If you don't know why your relationships end then what's to stop it from happening all over again?
The reasons our participants broke up were numerous and varied.

I think your answers prove that there's rarely one single reason for a breakup. But there's only one reason to stay together: romantic attraction.
Finding #6: Cheating is a dealbreaker
It's no surprise to learn that 82% of people said that would end a relationship if their partner cheated on them.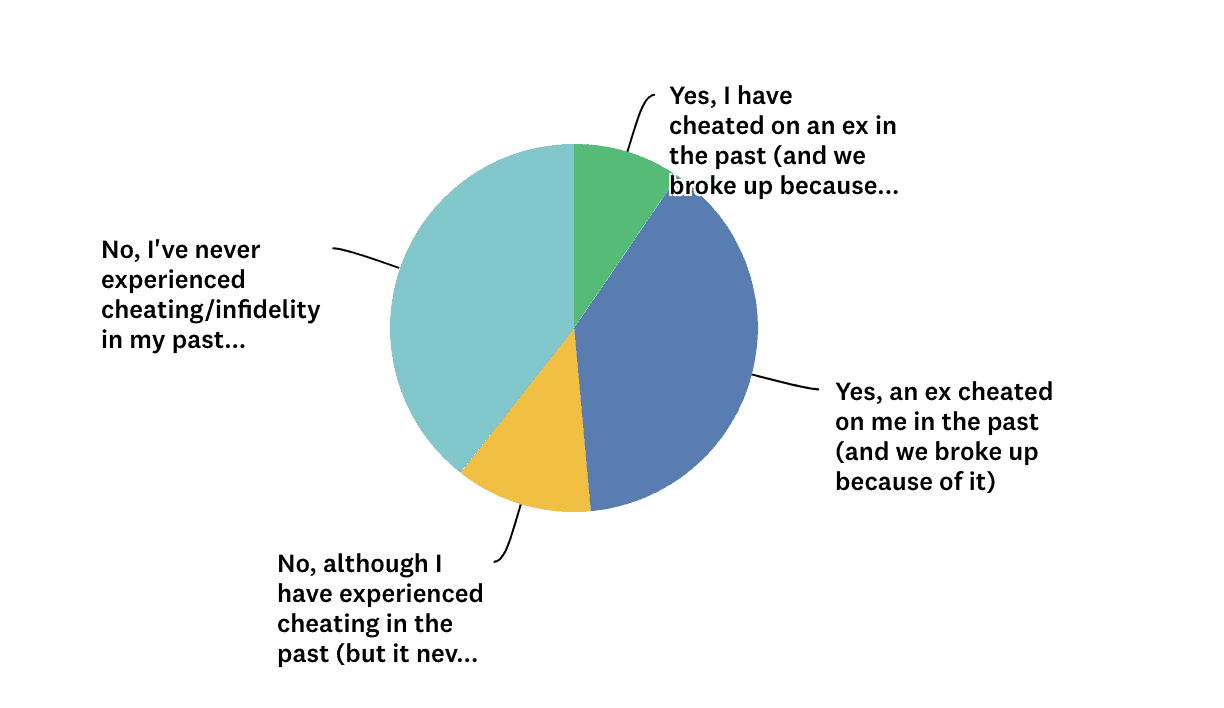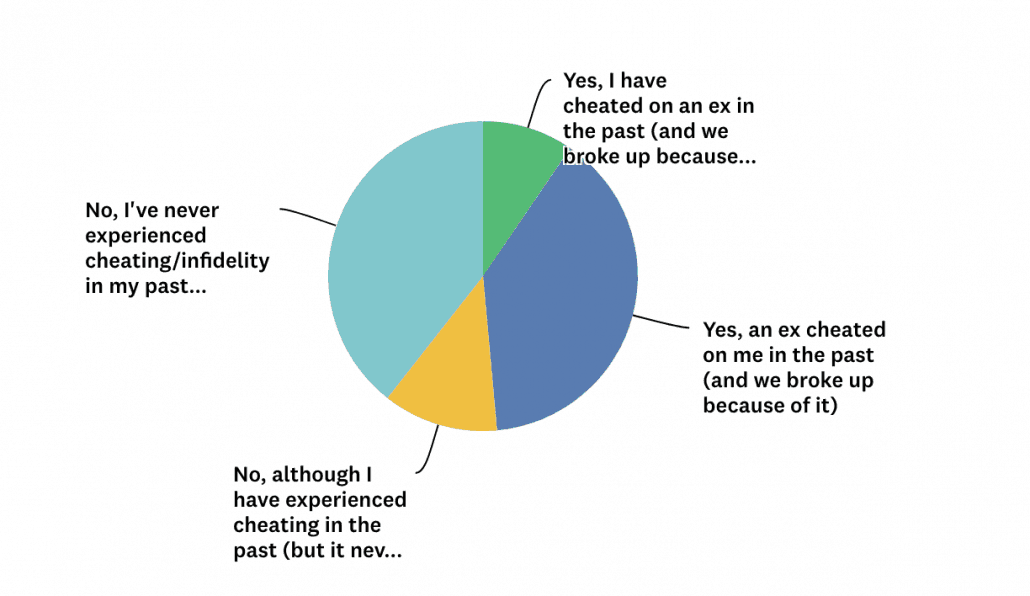 But nearly 50% of respondents also said that they'd had a relationship end due to cheating. 33% of men said they had a relationship end due to their partner's infidelity compared with 44% of women.
Almost 50% of couples experience relationship ending infidelity.
For the cheaters reading, it's never too late to change your behaviour. And for the cheated on, you're not alone.
Infidelity is hard to come back from but it's not impossible. The key is rebuilding trust.
Finding #7 Men and women aren't so different.
With the exception of the previous question, men and women answered all my questions almost identically.
So it turns out that gender doesn't correlate strongly to specific relationship problems and breakups.
Couple that with the diverse range of ages and cultural background of our respondents and you'll understand why I say that my Ex Factor Program works no matter who you are.
Finding #8: There are a million ways to ruin a relationship
While we found that lack of commitment was the Number 1 source of tension in a relationship, there were plenty of other causes. Thank you all for your very specific responses. I read each and every one of them.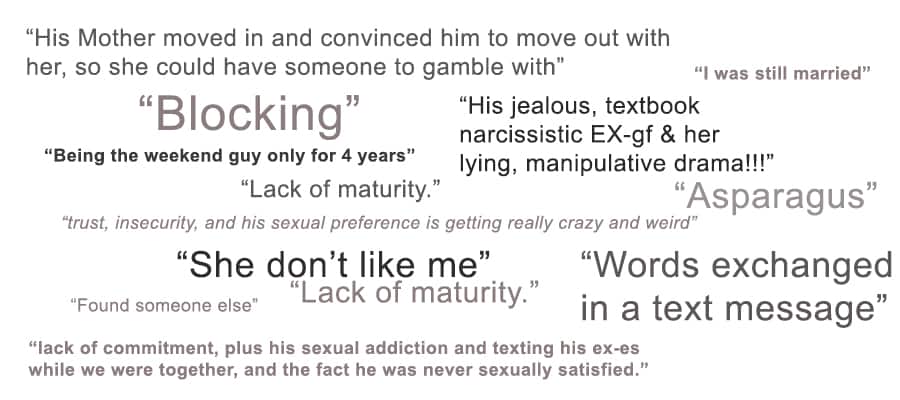 While some of these are heartbreaking, the worst cause of tension is actually one of the most common: "I don't know".
Just like with breakups, it's important to identify and deal with the source of conflict in our relationships. Just ignoring them won't make them go away.
If you're still unsure what went wrong in your relationship, and if you have a chance of getting your ex back, take my free quiz right now.
Who took my survey? There was a pretty diverse group of respondents. Out of the whopping 1643 people who responded 49 percent were women  and 51 percent, men.
Our respondents ranged from under 19 years of age to 65.
We also had answers from around the world. Fifty percent of respondents were from North America, 20% were from Europe and another 20% from Asia.
---
---