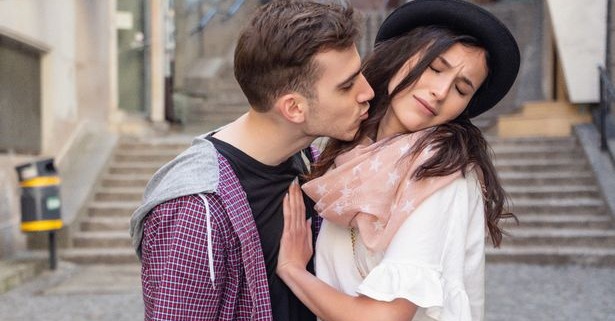 You want your ex back but you're afraid to risk looking desperate and pathetic.
People will tell you to put your pride aside and just go for it. It's worth looking bad to win back the love of your life.
I'm here to tell you that that's actually the wrong approach.
You need to avoid looking desperate if you want your ex back.
If they get the sense that you truly want them back and would do anything to get a second chance, this is going to scare them off and here's why.
First, it puts a lot of pressure on them. If they're unsure at all about the prospect of giving things another chance–and let's face it… they are definitely unsure–then this is going to tip the scales in the wrong direction.
---
They think that the next time they speak to you you're going to press them for an answer, so they'll want to avoid you at all costs. So in this case, an ex who may have been convinced to try again, under different circumstances, is now on their guard any time you try to talk to them.
Second, it makes it seem like you don't have other options. While you may think it's sweet that you want them and only them, it can also look like you don't really have any choice. If your ex thinks that you're not attractive to anyone else out there, they'll wonder why.
And that's going to make them focus on all your worst qualities. Pretty soon they'll ask themselves: why do I want someone no one else wants? And at that moment, your chances with them go up in smoke.
I'll explain to you how to avoid coming across as desperate while you try to get your ex back. It's a subtle method but one that really works to maintain your status and your composure.
Now let's get into HOW you can avoid looking desperate while you pursue your ex.
1. Focus on yourself
When you're trying to get your ex back, you're putting your focus in the obvious place: your ex. But the more you focus on your ex in this situation, the more difficult it becomes. When you make your ex your sole focus, you put pressure on yourself to do everything right and that creates stress which your ex can smell from a mile away.
At the same time, if you're focusing intensely on your ex, you're going to be doing everything you can to please them, which–as I'll explain later–is a terrible approach.
On top of putting pressure on yourself, you're also putting pressure on your ex to get back with you, which is only going to scare him or her off.
This is a catch-22. How can you get your ex back without putting your focus on them? You can actually break this cycle by focusing on yourself and get a better result. Allow yourself to be selfish in this situation. Think of what YOU want rather than your ex wants.
RELATED: 3 No Contact Mistakes That Your Ex Will Hate You For
For example, you should stick to things that improve your life like hobbies, your social life, work or school. A breakup can really destabilize your life and promote negative habits. Maybe you've been eating poorly, isolating yourself, or drinking too much. Now is the time to take back your life and create structure.
Do anything and everything you can think of to make yourself a happier, more stable person. In the long run, this will make it easier to get your ex back because it will get you into a better headspace. Right now going for a run or calling a friend will actually do more to get your ex back than crafting the perfect text to send them.
This is how you avoid desperation: by focusing on your own well being instead of your ex. Remember, you want your ex back because it would make you happy so making yourself happy is your TRUE priority here. Act accordingly.
2. Don't get into deep conversations
Talking to your ex at this stage is a potential minefield. In fact, I'll talk more later about why you should wait a period of time after the breakup before talking to your ex AT ALL… but if you already have waited, then you may be tempted to dive in head first and put all your cards on the table.
Here are the things you probably want to talk to your ex about: why the breakup happened, how much you miss them, what you did wrong and how you can make it up to them, and why they should give you another chance.
In reality, you need to avoid conversations like this at all costs. Remember, you're trying to avoid looking desperate here. If you start in on any of these conversations–no matter how well you handle it–your ex is going to see instantly that you're basically begging for a second chance. There's no real reason to have conversations like this otherwise.
In fact, the better you think these things out and plan them, the worse it's going to look. You'll come across as unnatural and rehearsed…because you are. And that will tell your ex that you've spent many sleepless nights coming up with the perfect thing to say to get their attention.
3. Own your feelings
Many people think that the way to avoid looking desperate is to bury their feelings deep down and pretend that they don't exist at all. The truth is that this is not going to work in your situation. Your ex knows you pretty well and if you've been bottling up these feelings, they're going to sense it.
And letting your ex see how you're feeling, even indirectly, is a big mistake.
Instead, acknowledge these feelings… to yourself or to a trusted friend or family member. Tell them what you're feeling, how much you want your ex back, how lonely you are.
Take time to process these feelings rather than running from them. You'll be shocked at how much of a difference this can make. Naming and sharing these feelings will make them much more manageable.
Don't overdo this or you may annoy your friends, but don't bottle your feelings up either. This is what friends are for, really. The key is that you keep this to yourself and one or two trusted people in your life, and avoid letting your ex see any kind of emotion or heartache.
4. Play it cool
When you're thinking about sending that text to your ex, posting on social media, or talking to mutual friends, just wait. If you're here, it's a pretty safe bet that you're not in a great place emotionally.
Pain like this will put you in a very twitchy, reactive headspace. You want your ex back, and you want them now. So instead of thinking things out and going at your own pace, you're rushing ahead to the next step.
RELATED: Stop Thinking About Your Ex (If You Want Them Back)
There's no rushing this process and if you're coming at your ex with this kind of energy, you're going to look desperate. Instead, slow down, take a breath and think things out.
If you can remember to do this every step of the way, you're going to project a more calm, collected energy which will be attractive to your ex. Furthermore, being calm and collected signals to your ex that you're not worried how things pan out… you have other romantic options that you can pursue any time you want.
This is an important mindset and something that will inject urgency into the situation for your ex, making them worry that you're not going to be around for long if they don't soon change their mind about the breakup.
5. No Contact
No Contact is the best way to avoid looking desperate. I cover it in more detail in this article but basically it means spending approximately 30 days following the breakup without contacting your ex in any way. Radio silence: no messages, phone calls, in person meetups.
There are a whole host of benefits here but since we're already talking about it…it is a VERY effective way to shed some of the desperation you're carrying around after the breakup.
Think about it: if you call your ex 3 days after they dumped you, they'll see how much you want them and miss them, no matter what you say specifically. You could say "I hate you and I never want to see you again" and it's going to still come across as desperate.
Whereas, if you steer clear of them, don't respond to their messages, and don't like their photos on social media, it will look like you're moving on with their life. This is the exact thing you're trying to project here.
And when you do pop back into their DMs after 30 days, they're not going to be suspicious of your motives the way they would on day 5.
6. Don't over-text
If your period of No Contact is over, and you're into what I call the "Rekindling phase" where you're able to start talking with your ex, you need to tread very carefully. It's easy to overextend yourself and show your ex how much you want them, right off the bat.
One of the ways we do this is by overtexting. They say "how are you?" and you send multiple paragraphs about your life, when they were really just being polite. They don't answer a message right away and you follow up with another and then another with a good ten minutes in between.
This is THE most desperate thing you can do when talking to an ex, short of showing up uninvited with a bouquet of roses. Remember, your ex is going to be on alert when talking to you. They're looking for a reason to run away and by being too aggressive, you're giving it to them.
7. Don't be too available
Just like double-texting, being too available to your ex can be the kiss of death. For example, if your ex asks when you want to get together, rather than saying "whenever," give them a specific time and place. If they cancel at the last minute, don't offer to reschedule.
Basically, don't show them that you have nothing else going on–or worse, that you're willing to clear your schedule to make room for them. This smacks of desperation.
You don't have to be standoffish or rude, but don't let them know that you're willing to do anything just to have coffee with them. Don't forget, you're doing this for a reason, you want them back. If you come across as someone without value or other options, they're going to question if they really want to give you another chance. It's basic psychology.
8. Date other people
I know it feels impossible to give your attention to anyone else right now when you feel so close to reconnecting with your ex, but this can help SO much if you do want your ex back. If you make the effort to meet and connect with new people, it's going to completely transform your mindset when it comes to your ex.
I know you have your heart set on one person, and there's no need to change that, but dating other people will show you that there are other possibilities for you, that this isn't the only way forward in your life.
RELATED: The Best Dating App For Women in 2022
As I've already said, it's easy to get stuck in this "all or nothing" mindset with your ex. Like if you can't win them back then your life is ruined and you have no chance at happiness. It will help pop that bubble to see that there are actually interesting and attractive people out there besides your ex.
Not only that but dating is a skill, plain and simple. Dating other people will sharpen up your conversational skills and make you think more about how you're presenting yourself to your ex. Remember that just because you and your ex were together in the past, doesn't mean that you can skip past the dating phase. You need to show your ex that you can still provide the kind of excitement that they felt when you first met.
9. Don't be overly nice
Being too nice can hurt you in so many aspects of your life and getting your ex back is no different. If you show your ex that they can walk all over you and you'll still come back for more, they're going to lose respect for you real quick. Being overly nice to your ex, no matter how they're treating you shows them that you lack self respect and that you're desperate.
There's no need to be mean to your ex, but don't bend over backwards to make them happy. This includes things like bringing them gifts or flowers, complimenting them, and sleeping with them. It also includes being a shoulder to cry on, or providing them with love and affection.
Remember, they chose to end the relationship. Unless they're willing to REALLY treat you right, you shouldn't be acting like they're still the most important person in your life.